Halloween can be a lot of fun but it can also be expensive. If your Halloween fun has to be on a budget this year, then purchasing a costume at your local Halloween store may not be in your budget. Fortunately, there are a number of amazing Halloween costumes that you can make on your own for little to no money. Below are several options for DIY Halloween costumes that you can make for your kids or yourself using items you already have at home, things you can find online for free or cheap, or using items that can be purchased inexpensively.
Cardboard Robot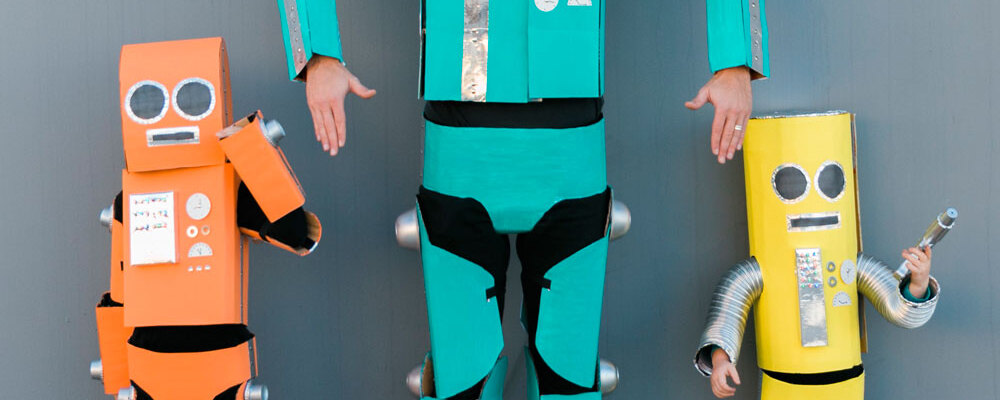 If you have a kid who loves robots, you likely have all the supplies you need in your house to make a DIY robot costume. Think about some of the popular robot characters that your kids like and you will realize that many of them have a boxy shape. This is perfect if you want to create a free costume from items you already have at home. You can go basic with this costume design and only use things you have at home or make it more elaborate based on your budget and the supplies you have on hand or can purchase.
Simple Cardboard Robot Costume Supplies
2-4 cardboard boxes. One for the body, one for the head, and two for the feet (optional)
Scissors
Tape
Paint
Tall socks or foil dryer vent hoses
Instructions: Start by finding a large or medium sized box that will work as the body of the robot. Open up the bottom and leave it opened. At the top, cut a spot that your kid's head can fit through. On the sides, cut openings for the arms. You may have to add tape in some areas to reinforce the box. You can paint the box silver or any fun color you want that represents your kid's favorite robot.
Glue buttons, pipe cleaners, and other items to represent buttons and other gadgets on the robot. For the head, use a smaller box and cut openings for the eyes and mouth. You can add some type of mesh to the openings if you want to conceal the eyes and mouth a little more. You can also add paint and decoration around the openings to make everything blend well. For the robot legs and arms, two potential options include tube socks and dryer vent hoses.
Take long tube socks, paint them silver, and cut the ends off. Your child will then put them on their arms and legs. Or, get flexible foil dryer vent hoses to wear over arms and legs – be careful to make sure there are no sharp edges and that your child wears appropriate clothing underneath the hoses. The final step is to make shoe coverings with old shoe boxes. Flip the shoe box upside down and cut a hole near the back that will let your child's foot slip through. This will be used to cover your child's shoes and can be painted to match the rest of the robot.
There are multiple ways to make a robot costume using cardboard boxes. Some are simple and others more elaborate. Choose one based on the supplies you have on hand, your budget, and your timeframe. You can see an example of a simple robot costume by watching the linked video.
Zombify Yourself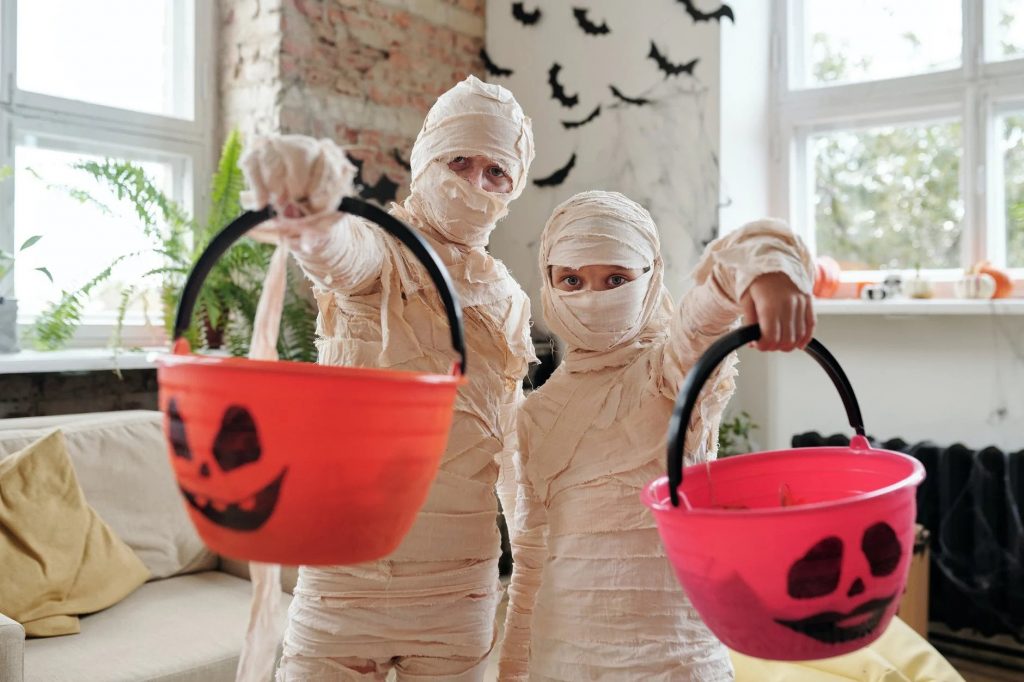 Zombies have long been a popular costume choice on Halloween. And, with the popularity of television shows and movies about zombies there are plenty of zombies hobbling around on Halloween. You can make a DIY zombie costume using things that you already have at home. There are all types of zombies – soccer player zombie, football player zombie, business person zombie, etc. Adding some fake blood, messy hair, and pale makeup with some dark spots added in will have you looking like a zombie in no time.
Zombie Costume Supplies
Old clothes that you don't mind ruining
Fake blood, red food coloring, or red paint
Scissors
Makeup
Instructions: Zombies go through a lot as they hunt for their next meal. In the process, their clothes get dirty, ripped, and bloody. Find some clothing that you do not mind ruining – if you want to be a zombie soccer player, for example, look through your old jerseys to find an option – and then get to work making it look like you've been on the hunt for your next meal. Rip a few holes, rub on some dirt and grease, and splatter it with the fake blood, red food coloring, or red paint you gathered for the process. On your face, you can help yourself look like a zombie by putting on some extra light or white makeup to make it look like the life has drained from your face. You can add in some darker makeup (black eye shadow) under your eyes and at the hollows of your cheeks to add to the lifeless look. If you really want to go all out with the makeup – without spending a lot of money – you can check out the youtube tutorial on how to create zombie-like injuries using toilet paper, paint, and makeup.
Stick Figure

Stick figures are easy to draw and almost as easy to make into a DIY Halloween costume. An all-white outfit, some black tape, and a cardboard mask are all it takes to come up with a cute and simple costume.
Stick Figure Costume Supplies
White sweatsuit, white scrubs, or white shirt and pants
Black tape
Piece of cardboard
Marker/paint
Instructions: Once you have on your all white clothing, measure out tape to make the outline of your legs, arms, and body. A simple straight line down each extremity and down the middle of your body will give the look of a drawn stick figure. You can make a mask for your face using a round cutout of cardboard painted white with basic features drawn using marker or tape.
If you want to get more elaborate, there is also the option of making a light-up stick figure or glow-in-the-dark stick figure. Check out the video below to see various examples of stick figure costumes that you can make on your own.
If you are running low on funds this Halloween – or are sticking to a strict budget because you are working toward a goal like debt payoff – there are options for getting a great costume without spending a lot of money. Some time, a little creativity, and a few items from around your house can provide you with an inexpensive and fun Halloween costume this year.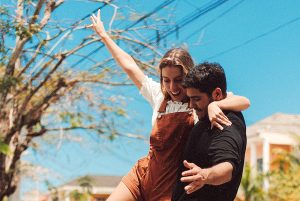 East Texas is full of charming cities and towns that have a lot to offer when it comes to having fun without spending a lot of money. No matter what part of East Texas you find yourself in, the chances are that there is a nearby town that offers parks, free museums, and unique attractions…
Read More