Romance can be hard to find in East Texas and making time to spend with your partner can be hard to do – especially if you are on a budget. But going on a date with no money doesn't have to be hard with so much art, music, and free events to enjoy. This guide will help you plan your next date night and you can even leave your wallet at home.
Cheap Date Ideas in Tyler, TX
Tyler Municipal Rose Garden and Museum
If you and your partner are looking for fresh air and beautiful scenery, look no further than Tyler's Rose Garden and Museum. Roses are the most popular flower of Valentines for a reason and this beautiful park features over 450 unique rose varieties. This beautiful garden is open and free for admission year round, located on the northwest side of town near Harvey Hall Convention Center.
420 Rose Park Dr, Tyler, TX 75702
Gallery Main Street
For both the art lovers and the amateurs, Gallery Main Street's rotating art exhibit can appeal to everyone. With shows that change every eight weeks and are free to the public, come take in the art together and leave inspired. It is located in Downtown Tyler.
110 N College Ave Suite 105, Tyler, TX 75702
Movies in the Park
Tyler's spring 2020 Movies in the Park was pushed back to the fall because of COVID-19, but that just means a free movie date night is just around the corner. Bring a blanket and a picnic to share and enjoy a free date under the stars at Bergfeld Park. Keep an eye out on the Parks Events Calender for the lineup and other free events. Bergfeld Park is located off Broadway Avenue and College Avenue, between Fourth and Fifth Streets.
1510 S College Ave, Tyler, TX 75702
---
Cheap date ideas in Longview, Texas
Visit The Green
This incredible 9-acre park and venue features walking trails, art installations, and music gardens. Pack a picnic and have dinner out in nature, then take a stroll and enjoy the art and music together. Keep an eye out for free events hosted there as well, as there are several outdoor event venues to be enjoyed. The Green is located west of downtown on the northwest corner of Spur 63 and highway 31
207 S Spur 63, Longview, TX 75601
Longview Museum of Fine Art
While not free, admission to the Longview Museum of Art is only $5 and gives you access to LMFA's beautiful rotating exhibits. LMFA highlights Texas artists and celebrates our artistic heritage. It is located near the intersection of North Green Street and East Tyler Street.
215 E Tyler St, Longview, TX 75601
Historic Longview Farmers Market
Even if you don't plan on spending money, exploring Longview's Historic Farmers Market makes a perfect low key date whether you've just started dating or been married for years. See the flowers, sample local produce and food, and enjoy the fresh air together. You can find the farmers market on Saturday mornings by the intersection of South High Street and West Cotton Street.
105 W Cotton St, Longview, TX 75601
---
Cheap date ideas in Mount Pleasant, Texas

Go berry picking at Greer Farm
Greer Farm is a beautiful local farm located less than half an hour from Mount Pleasant. While not free, for the price of a tank of gas and $3.50/pound you can pick your own fresh and seasonal fruit. Take in the picturesque farm, support a local business, and pick your own fruit. It is the perfect weekend date when you want to enjoy the warm weather.
1444 Co Rd 1125, Daingerfield, TX 75638
Stroll Through Historic Downtown Mount Pleasant
While the stores might not be free, window shopping together can be. Mount Pleasant is a nationally recognized Texas Main Street City and the beautifully restored downtown area is free to enjoy. Whether it is the first date or if you've lost count, it can be fun to explore new places and shops together.
Go To The Mid-America Flight Museum
The Mid-America Flight Museum in Mount Pleasant is full of history and interesting artifacts. You can look at photos of vintage aircrafts, see around 30 vintage aircraft in person, and learn about the history of flying and the evolution to what it is today. The museum also has a collection of warbird photos and memorabilia for the Air Force enthusiasts. The goal of the museum is to educate and honor veterans. If learning and exploring sound like a fun way to spend a day date then consider visiting the Mid-America Flight Museum. Admission is free and the museum is opened on Saturdays from 8 am to noon.
602 Mike Hall Parkway, Mount Pleasant, TX 75455
---
Cheap date ideas in Sulphur Springs, Texas
Have a picnic at Coleman Park
Coleman Park has several picnic spots and nature trails to explore. Pack lunch or dinner and enjoy the two waterfalls, three bridges, and the lakeside view together. Coleman Park is southwest of downtown and just north of I-30.
125 Davis St S, Sulphur Springs, TX 75482
Visit the Connolly Street Art and Emporium
Located just off the Square in Downtown Sulphur Springs, the Connolly Street Gallery displays the work of several talented local artists. Enjoy a walk through Downtown Sulphur Springs and then appreciate the gallery. There is coffee, tea, and other drinks available for purchase, but the art is free to enjoy.
220 Connally St, Sulphur Springs, TX 75482
Free concerts and movies downtown
You don't have to spend money to enjoy a movie date or concert together. Sulphur Springs hosts 20 free concerts a year and upcoming Movies on the Square include The Wizard of Oz, Pirates of the Caribbean, and Black Panther. It is located at Celebration Plaza in Downtown Sulphur Springs.
100 Church Street, Sulphur Springs, TX 75482
---
Cheap date ideas in Texarkana, Texas
Movies at the Park
Texarkana is another city where planning your movie date doesn't have to cost much. Movies at the Park has recently returned, so check out the upcoming lineup, pack a dinner, and take your date to Spring Lake Park to enjoy the sunset and a free movie. Spring Lake Park is found in an offshoot of the Phillip McDougal Trail.
4303 N Park Rd, Texarkana, TX 75501
Take a free art class together
The Texarkana Regional Arts and Humanities Council offers free and low cost art classes throughout the year. Whether you're experienced artists or can barely hold a pencil, it can be fun to be creative and laugh together. From mosaics to metalsmithing to art journaling, it can be exciting to learn something new together.
Contact ArtsSmart at (903)-792-8681 or arts.smart@trahc.org for information about their classes.
321 W 4th St, Texarkana, TX 75501
Four States Auto Museums
For the car lovers out there, the Four States Auto Museum has free admission and an incredible collection of vintage cars and motorcycles. The owner is reportedly very friendly and knowledgeable and there are several other museums in the area to check out as well. It is found on the Arkansas side of the border.
217 Laurel St, Texarkana, AR 71854
---
Cheap Date Ideas in Paris, TX

Visit the Paris Texas Eiffel Tower
Paris, Texas shares its namesake with the most famous city in Paris, France. As a homage to the town with which it shares a name, the town of Paris, TX created a replica of the Eiffel Tower that is famous in Paris, France. The original Eiffel Tower is a famously romantic place and lovers from all over the world visit it every year. If you can't make it to Paris, France consider visiting the Paris Texas Eiffel Tower instead. The cost of travel will be much less (especially if you already live in Paris, TX) and there is no cost to check out the Texas replica of the famous tower. You can snap a selfie with your significant other in front of the 'other Eiffel Tower' and then have a picnic at one of the many parks in Paris. The Paris Texas Eiffel Tower is sixty-five feet tall and topped with a red cowboy hat and is lit up with LED lights in the evenings.
2025 S Collegiate Dr, Paris, TX 75460
Visit the Lamar County Historical Museum
Paris, TX has a rich history that is documented and on display at the Lamar County Historical Museum. You can learn about the devastating fire of 1916 and how the people of Paris rebuilt. In the museum you can visit a blacksmith shop, pioneer kitchen, military room, and even look at a collection of shoes. If you think exploring history can be romantic then an afternoon at the Lamar County Historical Museum is a great option. It can be a lot of fun to learn about how Texans from long ago built a life. Admission is free but donations are always appreciated.
1015 W. Kaufman Paris, Texas 75460
Take a stroll through historic downtown Paris
Like many of the old towns in Texas, Paris has a downtown area full of old buildings and charming shops. You can find unique places to window shop and eat while spending time with the person you love. During various times of the year you can also discover events put on in historic downtown. You can make it a free date by bringing a picnic lunch and window shopping or splurge a little and choose a one-of-a-kind place to eat downtown.
Free & Cheap Date Night Ideas Anywhere
For even more cute ideas, check out our guide to free museums all over Texas or consider a romantic movie night with our guide to the best TV shows and movies to watch for free online! With a little creativity and research, it's possible to create an awesome date with no money out of pocket.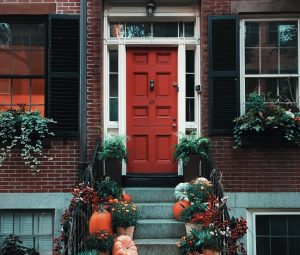 If you love Halloween and all that it involves – costumes, creepy decorations, spooky music, and scary movies – then now is your time of year.
Read More